Bartop Vinyls there are as many options as you want. When decorating your arcade machine, you can choose a vinyl that has already been made or design your own drawing inspired by that game that marked your childhood.
Here's everything you need to know before deciding on your bartop vinyl, how you can find the best designs, and how to design your own graphics.
What you should take into account before choosing a vinyl for your bartop arcade
The most effective option to decorate your bartop is to opt for an adhesive vinyl, since it will adhere better than with other types of options, such as screen printing.
Surely you already have the vinyl of your dreams in your mind, but many doubts assail you before deciding on one.
Here are some tips to help you choose the vinyl for your bartop that best suits your needs:
Model: make sure the vinyl corresponds to the bartop model. There are some models of vinyl for bartop with feet, but there are others that are only available for the upper part.
Measurements: whether you design your vinyl or buy it, you must calculate that the measurements match your bartop.
Visible parts: choose a vinyl for the visible parts, that is, those areas that the vinyl does not cover. Here you can see an example of how the arcade machine was covered in yellow where the general vinyl did not.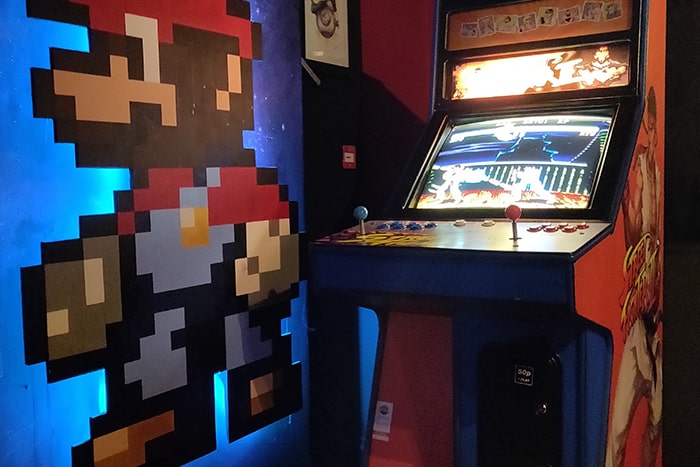 Design your own vinyl for your arcade machine
If you are wondering how to make the vinyls for your bartop from home, then we explain how to do it and we give you all the tools.
In this way, you can get a free bartop vinyl design by creating your own drawing.
Where you can download your bartop vinyl template
On the Talentec website you can download the vinyl templates for both the bartop and the pedestals for free and thus be able to create your own designs.
These are all the templates that you can download in PSD format:
19inch Bartop template
19inch Stand template
24inch Bartop template
24inch Stand Template
Once you download the files, open them in Photoshop and follow the measurements indicated on each template to cover the front, as well as the left and right areas of your arcade machine. That easy!
The best vinyls for bartop arcade
Enjoy again the most famous games of the 80s and 90s by decorating your bartop's furniture with your favorite characters.
Next, we have made a compilation of the most beautiful real vinyls that have already been installed in arcade machines and that you can find on the Devianart.
How to get real arcade vinyl designs
If you don't want to design your vinyl, but would like to get a template of a real one that has already been installed on a machine, you can visit the Devianart website.
As you can see, there is something for everyone, from Mario Bross, Ninja Turtles, Metal Slug, Star Wars, etc.
Bartop vinyls with stand

If your bartop is two-piece, that is, you have the bartop furniture and a stand, take a look at the vinyls that we show you below:
#1 – PacMan: the classic Comecocos, as it is popularly known in Spain that came to light in the early 1980s.
Bartop vinyls without stand

Those who do not want to put the stand to your bartop, we also have designs that you will like.
#1 – Donkey Kong: the famous gorilla stars in the classic video game that also appears in the Mario games, whose first appearance was in 2018.
#2 – Space Invaders: in 1987 this arcade video game appeared that was based on killing aliens with a laser cannon.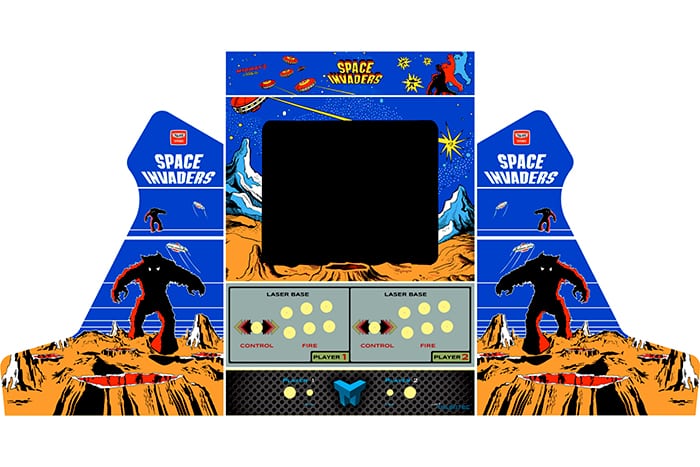 #3 – Final Fantasy: the fantasy and science fiction video game that was released in 1987 and tells the story of different heroes who fight against a greater evil.
How to stick the vinyls to the arcade machine
If you are assembling your bartop kit, you may have some doubts about how to place the vinyls in the best way.
Next, we explain the step by step so that the installation is perfect for you and you can start enjoying your arcade machine:
Thoroughly clean the surface where the vinyl will be placed with a dry cloth to remove any dust and particles.
Spray the furniture with a little soapy water to finish cleaning the surface. Remember that you should not moisten this area too much to avoid damaging it.
Attach the vinyl slowly making sure it sticks perfectly.
If you need help to assemble your bartop kit, on Youtube we tell you the step by step to facilitate the whole process. Now you just have to decide on your vinyl and let the game begin!