RasPi Arcade Stick 64gb Pro – Spectro Edition
A smart arcade stick: the RasPi arcade stick.
This edition includes for the most demanding players the original Sanwa buttons and joysticks.
With the new arcade console RasPi arcade stick you can play directly on the TV, through an HDMI cable, as if it were a video game console. In addition, thanks to the USB output port, you can use it as a conventional arcade controller on PC, Raspberry, PS3 and PS4.
https://youtu.be/ErOU7xnq1y0
The RasPi arcade stick is available in the following editions:
TALENTEC edition.
Spectro edition.
8 bits edition.
Connecionts:
The RasPi arcade stick carries inside the Raspberry Pi3 B+, in addition to the following ports to facilitate the user the gaming experience: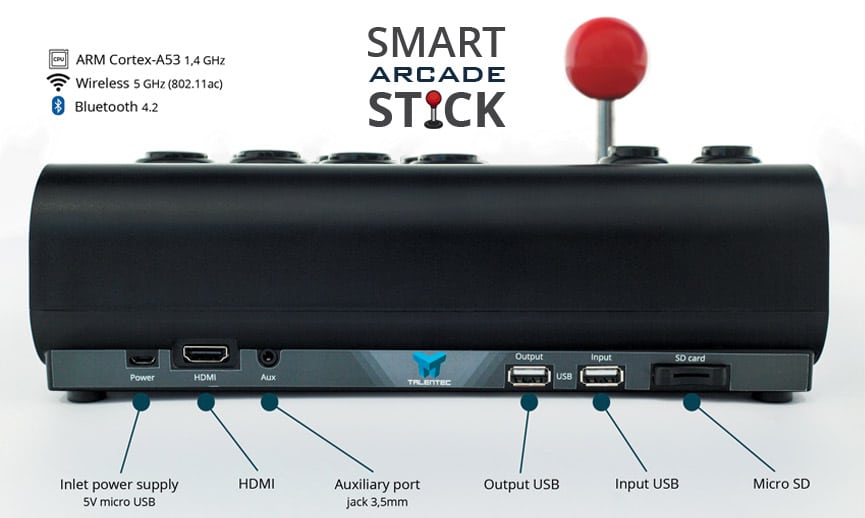 5V micro USB Inlet power: Feed your RasPi arcade stick with a mobile phone charger. Cable with switch included.
HDMI port: Connect the arcade stick to a TV. Cable included.
Auxiliary port: Connect your headphones or audio system.
Output USB: Use your Raspi Arcade Stick like a conventional arcade stick in any PC, Raspberry, PS3 or PS4; using an USB cable.
Input USB: Let other players play with you connecting their USB arcade stick.
 Micro SD port: Change your system easily thanks to this port.
Content:
1 RasPi Arcade Stick
1 HDMI cable
1 power cable
1 USB male-male cable

Features:
Layout:

Japanese Sanwa joystick
8 Sanwa buttons of 30 mm.
2 Sanwa buttons of 24 mm.

Core arcade console: RaspBerry Pi 3 B+​ .
Compatible systems:

Retropie.
Batocera.
Lakka.
Kodi.
Etc.

USB arcade stick compatible with:

PC.
Raspberry.
PS3.
PS4 (legacy mode).

Connectivity:

wifi.
Bluetooth.
Micro USB (5V power).
Aux.
HDMI.
USB port.
USB output.
Micro SD port.
Only logged in customers who have purchased this product may leave a review.