Yes, we know, we are nostalgic.
Retro games remind us of our childhood or youth
and make us relive moments that it seems we had forgotten. The best of all is that today you can recover these games and continue enjoying them from home with your bartop. You can assemble a
homemade bartop with an Ikea-style kit
thanks to
Talentec
, which offers you professional pieces so that you can assemble it at your own pace.
What is MAME?
MAME
(Multiple Arcade Machine Emulator) is a free and open source arcade machine emulator, whose objective is to replicate the software of the games of the 80s and 90s so that they are not lost. The first public release of MAME was in 1997 by Nicola Salmoria and today,
it supports more than 7,000 unique games
and 10,000 sets of real ROM images.
Alternatives to MAME games
Currently, there is a great variety of games and we can create our own retro console at home only with a micro-computer, such as the Raspberry Pi, and even with our PC. To do this, you only need the emulator and a pack of ROMs. Some of the
alternatives to MAME
games would be:
FB Alpha
Neo-Geo
Taito
Sega System
Top 10 best retrogames MAME
Keep having fun with the
characters of your childhood
playing again in an arcade machine, but in this case in your bartop arcade from home. If you are in search and capture of the best games to relive old times, here we leave you
our top 10
, what is your favorite arcade game?
10 – Bomb Jack
This game was the bomb! And it is that
Bomb Jack
tried to do that, to collect all the bombs on the screen without being killed by any enemy. This arcade game was born in 1984 and was created by the Tehkan company, better known later as Tecmo. Do you remember the landscapes you were in on each screen? The settings varied, as you went from Egypt to Athens, passing skyscrapers and castles.
9 – Frogger
Do you remember
Frogger
? It was a game in which frogs appeared and they had to jump different obstacles until they reached their home. This video game was developed by Konami and released in 1981. Its name was originally "Highway Crossing Frog", but the distributor Sega thought it would have more Frogger hook.
8 – Ghosts'n Goblins
Sir Arthur was the protagonist of
Ghosts'n Goblins
, who had to face various threats, such as demons, zombies, and other creatures to rescue a princess. Capcom was commissioned to develop the game in 1985.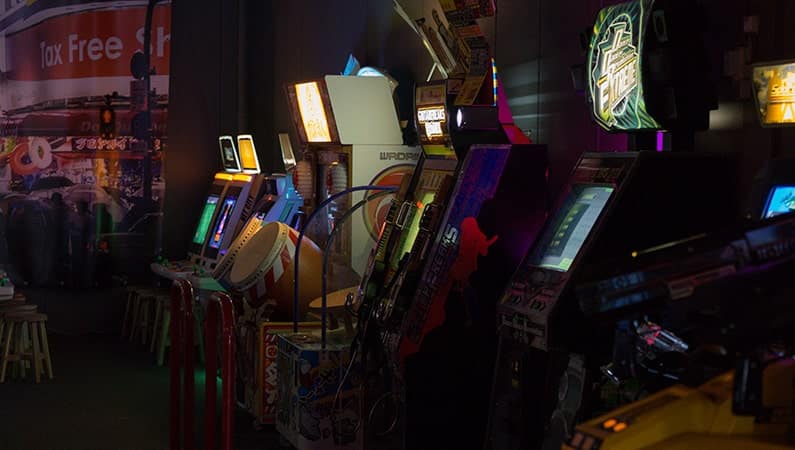 7 – Airwolf
As we were not going to include
Airwolf
, a classic where they exist. In this game you were the helicopter and you had to kill different obstacles, such as planes, trucks and rockets while you were flying overhead. Without a doubt, you couldn't get lost for a second! Did you know that he was inspired by the television series of the same name? Their first game was released in 1984 for the Sinclair ZX Spectrum by Elite Systems.
6 – Tiger Heli
Tiger
Heli
has the same gameplay as Airwolf, as it relies on a helicopter destroying military vehicles to score points. In addition, he also had a very powerful bomb that he could fire to kill his enemies. Toaplan was the company that developed the game that was released to the public in 1985.
5 – Bubble Bobble
This iconic Taito arcade,
Bubble Bobble
, was released in 1986 for arcade machines. This game was characteristic for being very funny thanks to its characters, the dragons Bub and Bob. In addition, it was very entertaining and had up to 100 levels. Did you know that you can get a
vinyl for your Bubble Bobble bartop 
at Talentec?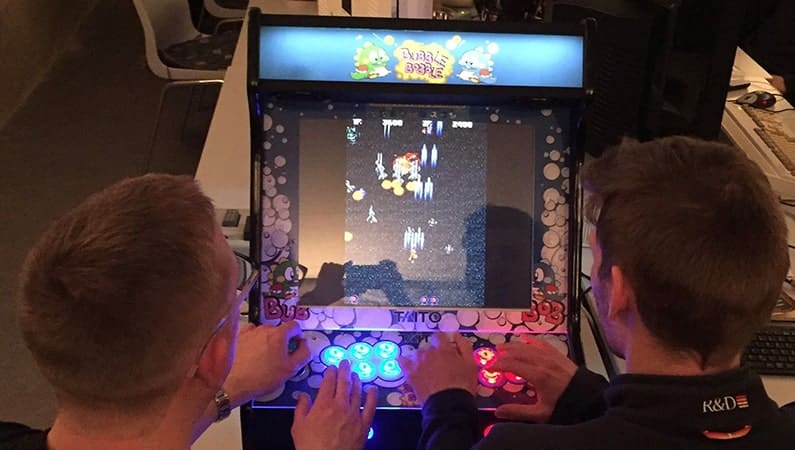 4 – Pac-Man
When we talk about
Pac-Man
we talk about the arcade coconut eater par excellence. The background music of the game and the black screen are sure to come to mind as the yellow coconut eater advances. The game designer was Toru Iwatani from Namco and the distribution company was Midway Games in the early 1980s. It also obtained the
Guiness record
for having sold 293,822 arcade machines from 1981 to 1987! If you have a bartop and would like to customize it with your favorite game, here is your
Pac-Man button kit
.
3 – Space Invaders
The aliens arrive in
Space Invaders
, a world totally different from what arcade games have us used to. This game developed and distributed by Taito was a success from the beginning, so much so that in Japan there began to be a shortage of coins because they were used in video game rooms! At Talentec you can get your 
Space Invaders bartop button kit
to give the touch that your arcade machine is missing.
2 – Mario Bros
Mario and Luigi had to be yes or yes in the top 3 of our list. This video game is one of the best known of all time, since it has been passed from generation to generation. This popular game was developed by Nintendo in 1983. A curiosity about this game, did you know that Mario's first appearance was in the Donkey Kong arcade in 1981?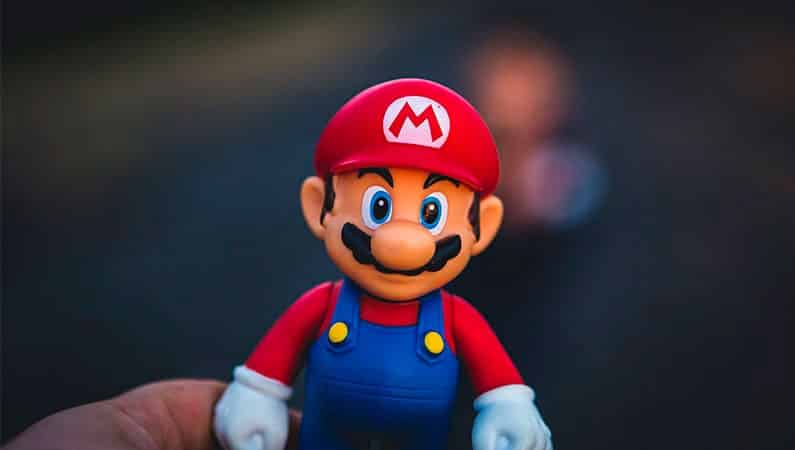 1 – Donkey Kong
The first place on our list goes to
Donkey Kong
, the famous arcade game starring a Jumpman, Mario Bros, who had to save Princess Pauline from the clutches of the gorilla. This mythical game was developed by Nintendo and released in 1981 in its arcade version. This was the first game to use the idea of ​​"rescuing the princess" and its success was worldwide, especially in North America and Japan.