In previous posts, we talked about the primitive video consoles, which were the ones that took the first step to introduce videogame systems into the home simply by connecting them to the television, the well-known video game consoles.. These first systems are part of the first generational group of video game consoles. So far, we can make a classification of eight groups or generations of video consoles. These groups classify the home video games by the technology they use and the time period in which they are launched on the market.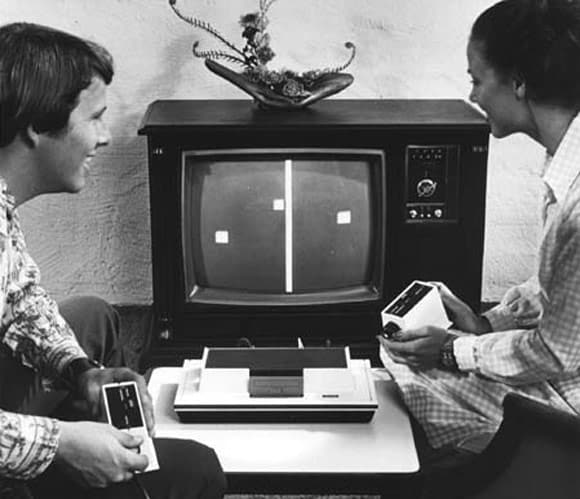 In this way, between 1972 and 1978 the first generation of videoconsoles was developed.The characteristics of all of them coincide in the use of a very basic electronics,in which the main protagonists are transistors and diodes, in the most primitive cases, and simple chips in the most advanced.   As for the color systems, they start from black and white in the first video consoles and the use of color graphics in the later ones. We found video consoles that have the controls integrated in the main panel and others that have separate controls by cable. As for the appearance, we can find some with wood finish, other plastic with neutral colors and also with a color finish. Some video consoles have accessories such as guns or light guns.
MAGNAVOX ODYSSEY
As we already said, the irst desktop console that entered homes was Magnavox Odyssey in 1972 creada por Ralph Baer. When it began to be commercialized, it had 12 very simple games divided into 6 cartridges. In addition, to play these games needed a transparent plastic templates that were placed in front of the television screen to simulate complex scenarios or boards. It lacked internal memory, and it was necessary to write down the scores on a score paper that was included in the box, as well as toy tickets, plastic chips and other elements.
Among the games offered by the pack were Table tennis, Hockey, Roulette … On the other hand, extra cartridges could be purchased separately to expand the collection to a total of 24 games. The Odyssey, also had a rifle as an accessory that could be purchased separately.
This was the first, but not the only, Magnavox video game console in this first generation of video game consoles. In 1975 the Odyssey 100 and the Odyssey 200 appeared on the market, with some improvements compared to its predecessor and ready to compete in the videogame market; later the range would be extended. You are two new videoconsolas were an attempt to improve to the first Odyssey, but they had an important rejection in the market; the technology they had did not allow them to compete against those that were already appearing in other brands. The later versions of the Odyssey were left behind and did not represent any remarkable novelty.
The Magnavox systems were the following:
SYSTEM
YEAR
CPU/CHIP
COLOR
SOUND
GAMES
INFORMATION
Odyssey
1972
NO
B/N
No
24
First Magnavox video game console
Odyssey 100
1975
NO
B/N
Yes, in the panel
Tennis

Hockey

Little improvement over the predecessor
Odyssey 200
1975
NO
B/N
Yes, in the panel
Tennis

Hockey

Smash

First screen scoring system for Magnavox, but without numerical system..
Odyssey 300
1976
AY-3-8500
Color
Yes, in the panel
7 new games
Odyssey 400
1976
B/N
Yes, in the panel
Tennis

Hockey

Smash

Numeric score control on the screen
Odyssey 500
1976
AY-3-8500
Color
Yes, in the pnael
Tennis

Hockey

Squash

Magnavox 4305 TV set with Odyssey included
1976
Color
Yes
The system is included in the TV
Odyssey 2000
1977
Same games and difficulties
These systems did not present many novelties
Odyssey 3000
1977
Odyssey 4000
1977
Odyssey 5000
1977
N Not released to the market